This virtual roundtable event for the Songwriting Studies Research Network took place on the 27th July 2021 and was chaired by Sophie Daniels of ICMP. The panel featured Professor Felicity Baker, Peter Cunnah of D:Ream, composer Julian Marshall, songwriter and lecturer Bonnie Baker, and musician and scholar Kit Ashton. Together they debated and discussed their thoughts on why they write songs.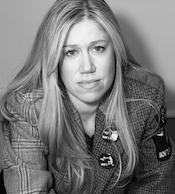 About Sophie Daniels
Sophie Daniels is Head of Songwriting at ICMP in London where she founded the songwriting provision in 2004. Her early career was in songwriting, performing, teaching and the record industry, holding marketing roles at the major labels; Sony UK and S Records where she worked directly for Simon Cowell.
More recently at ICMP she launched the MA in Songwriting and her primary teaching interests are in Creative Process and the broad, non-commercial and research applications for Songwriting Practice. Sophie travels to Nashville regularly and co-writes with singer/songwriters in the areas of Folk, Pop and Americana. Her new project is 'Liberty's Mother' which is a not for profit EP release with the charity ' Tommys'.