By Sam Lou Talbot
This is a video of a presentation given by Sam Lou Talbot at The Autoethnography of Composition and the Composition of Autoethnography conference on Wednesday 17 June 2020 at University of Glasgow.
Abstract
"Uncasing "Sam Lou Uncased": An Autoethnography of a Songwriting Podcast"
Songwriting podcasts tend to be elitist in that they tend to be focussed upon internationally renowned songwriters and Ivor Novello Award winners, notably, Sodajerker on Songwriting (Barber & O'Connor, 2011) or almost exclusively on craft and deconstruction (SongExploder, Hirway, 2014; The Working Songwriter, Pug, 2015). Similarly, music discovery podcasts aim to demystify songwriting processes (Songwriter Stories, Caruso, 2018), and Songs of Loss and Healing (MacGregor, 2019) and The Art of Losing (The Anchoress, 2019) are recent concept-driven derivatives. Yet none of these podcasts directly address the emerging, or re-emerging, singer-songwriter without representation, in the struggle to voice the songs, and lives, of ordinary people.
This paper reveals preliminary results from Episodes 1-5 of Sam Lou Uncased, my new podcast series featuring semi-structured qualitative interviews with DIY songwriters. A short audio of collated extracts, and a self-conscious reflection (Grierson & Brearley 2009) illustrate how Sam Lou Uncased differs from the conventional aesthetics of the aforementioned podcasts. A non-hierarchical and narrative inquiry (Barrett & Stauffer, 2009; Lego, 2008; McLeod, 1977) bridges the gap between the academic, DIY, and professional "communities of practice" (Wenger, 1991). In turn, the podcast title hints at an "uncasing" of the artist-researcher-host, who, in the course of conversation, "is both the researcher and researched" (Sullivan, 2005: xix). Without a set of core questions to repeat with each participant, as ethnography in the field has traditionally done (Zollo, 2003), autoethnography can instead shed insights upon two voices in conversation, and upon the gaps, silences, and recurring themes, which emerge. Such inclusive, non-traditional modes of doctoral practice research are inherently "impactful", presenting a timely opportunity to challenge academic norms (Candliss, 2000) whilst voicing alternative discourses in the emergent field of songwriting studies (Bartleet & Ellis, 2009).
Keywords: Songwriting studies, Popular Music, DIY, Autoethnography, Narrative Inquiry, Storytelling
Author: Samantha L Talbot, Doctoral Researcher, Music
Affiliation: University of Glasgow
Bio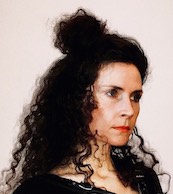 Samantha Talbot / Sam Lou Talbot is an artist, musician and songwriter based in Glasgow, U.K. She is a practice-based doctoral candidate in Music at the University of Glasgow.
Her research explores ritual and self through spontaneous songwriting and musical improvisation, and the aesthetics of production as the document of a performance.